About Me
Patty

Hi! My name is Patty aka SUNSPOTPP. I am presently a SAHM to my 4 yr. old grand daughter, Autumn, whom I adopted Dec. 12, 2008. I am 6 hrs (2 classes) away from my Associates Degree as a Drug/Alcohol Counselor, but had a set back in my health and have had to put that on hold for now. I have been PSP'ing for about 7 yrs. PSP is a GREAT stress reliever for me and I try to play as often as I can. Oh yeah, I live in Dublin, TX in the wonderful USA, home of the "Original" Dr Pepper that still uses "Imperial pure cane sugar"! If you want to know anything else, just ask! ♥ Me
View my complete profile

More Favs
Friday, February 20, 2009
6:56 PM |
Posted by Patty
|
Edit Post
I would like to thank Beth aka Kat of
Blissfully Beth
for this AWESOME Award!
Beth is a GREAT tagger and Template maker who I am proud to call my friend *hugs* !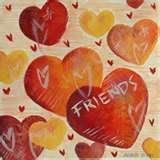 This seal is being given to the blogs which are very charming, these bloggers aims are to find friends not self promotion.
The hope of this award is that, even when the links are cut, even more friendships are propogated.
Give this award to eight blogs, who in turn must pass it on to eight more blogs, along with the award and the rules.
I would like to pass this award on to:

Check out their Blogs and make some really cool friends!
Please keep this award/friendship roll going!